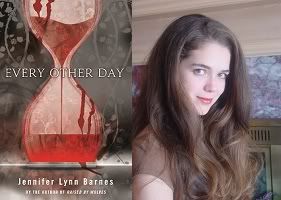 It's Wednesday. You're powerful. Unstoppable. Gifted with unbelievable fighting prowess and a mission to bring down the supernatural scum that haunts your town. You RUN this show.
It's Thursday. You're an average, slightly unfit, kid. You couldn't win an arm-wrestling match against the school nerd Eunice, although to be fair, she's got mad guns from punching the numbers on that pocket calculator she rocks.
In other words, you're just like Kali, the heroine of Every Other Day, which you can start reading for a limited time here on Figment. Kali's got amazing abilities and wields them with abandon, but every other day she becomes just an ordinary high school student, trying to get by. When Kali sees that one of her fellow students is marked for death, she knows she's the only one who can help. The only problem is, her friend is scheduled to die on a day when Kali is without her powers . . .
Your challenge: In no more than 2,000 words, write a story about someone with a split personality. It can be as extreme as a mental illness, or as benign as a musical-loving football player named, say . . . Ack Zefron?
How To Enter:
1. Read the full rules here.
2. Create an account on Figment.com.
3. Start a new writing. Your entry must be 2,000 words or fewer.
4. Tag that writing with everyotherday on the Details tab.
5. Press "Publish Now."
6. You should receive a pop-up confirmation of your entry, and in about two hours or so, your piece should appear among the submissions.
You have until January 11 at 11:59 p.m. EST to post, publish, and tag your entry. Voting will run until January 19 at 11:59 p.m. EST, at which point the five most-hearted entries will be sent to Regina Griffin, Jen's editor on Every Other Day, to choose the winners. That's right, Figs: your story could be read by a real-life professional book editor. First place will receive a copy of Every Other Day and a $25 Amazon gift card. Second place receives a copy of Every Other Day and a $15 Amazon gift card. Third place gets a copy of Every Other Day.
So get cracking and good luck!